How Website Speed Boosts SEO Rankings
"The faster your webpage loads, the better its ranking will be on Google search engine results. Gain knowledge on assessing and increase the speed of your website."
Is Website Compulsory For A Business?
In the current era of technology, it is essential for any business seeking to establish a robust online presence to have a website. Before launching the website, you perform a brief trial to discover that the pages are not loading as quickly as anticipated.
SEO encompasses a set of techniques aimed at assisting search engines in understanding the content provided on a website. This, in turn, facilitates users in finding the information they are seeking.
Google holds a dominant position in the search engine market, particularly in the Western region. Consequently, SEO best practices are largely influenced by Google's algorithms. In North America, Google accounts for approximately 90% of all searches, with Bing and Yahoo search engines capturing the remaining market share. However, it's important to note that different search engines hold sway in other parts of the world. For example, Baidu is the primary search engine in China.
The Basic of SEO (Search Engine Optimization)
When a user conducts a search, the search engine generates a list of websites organized in a ranking order based on their relevance to the query. This list is usually divided into several pages called Search Engine Results Pages (SERPs), with each page displaying around 10 results. The majority of users tend to focus on the first page of search results and rarely go beyond it, preferring to modify their search terms instead. As a result, the primary objective for most SEO professionals is to optimize a website to appear within the top 10 search results for the targeted queries they are focusing on.
The basics of SEO (Search Engine Optimization) involve implementing various strategies and techniques to improve a website's visibility and ranking in search engine results. Here are some fundamental elements of SEO.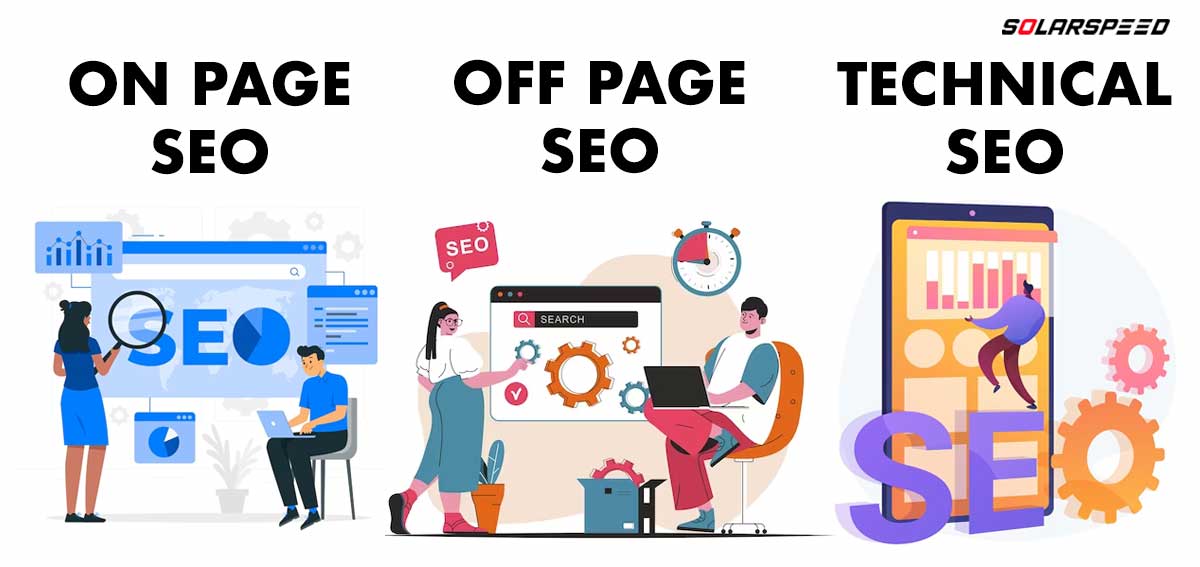 On-Page SEO refers to optimizing elements within a website to improve its visibility and rankings in search engine results. It involves optimizing content and HTML source code on individual web pages. This includes:
Keywords research and optimization
SEO content
Meta tags (page title and description)
Structure of URL
Internal linking
Image optimization
Off-Page SEO focuses on activities conducted outside the website to improve its visibility and reputation. It involves building external signals of authority and relevance. For instance:
Link building
Social signal
Online reputation management
Brand mentions
Technical SEO focuses on optimizing the technical aspects of a website to ensure it is search engine friendly and provides a smooth user experience. Key aspects of Technical SEO include:
Website crawlability and indexing
XML sitemaps
Website speed optimization
Site architecture
Mobile responsiveness
SSL and web security
What Is Page Speed in SEO?
Page speed in SEO refers to the time it takes for a web page to load completely and become visible to the user. It is an important factor that search engines like Google consider when determining the ranking of a website in search results. A faster page speed is preferred by both search engines and users as it provides a better user experience, improves engagement, and reduces bounce rates. It is essential to optimize page speed as part of SEO efforts to ensure better visibility and organic traffic to a website.
Why Page Speed in SEO Is So Important For Your Website?
Page Speed is one of the essential factors that covers under Technical SEO. It refers to the time it takes for the content of a specific webpage to load. It is important to differentiate this term from "site speed," which relates to the average loading time of multiple sample pages on a website. Page speed specifically focuses on the loading time of an individual webpage. Several factors influence page speed, such as server quality, file sizes, image compression, and other elements.
Why You Need To Care About Page Speed?
When you or your company create a website, the intention is to persuade people to take certain actions such as consuming content, making purchases, using your application, visiting your physical location, or developing a positive view of your brand. The speed at which your pages load directly impacts user perceptions, and if your pages load slowly, you risk losing visitors even before the page fully loads.
Within just 3 seconds, you may lose as much as 45 percent of your visitors. Even a small decrease in page speed by just 500 milliseconds can have a negative impact on how people perceive your site, brand, and products. Slow page speed has the potential to hinder your objectives and ultimately lead to a decrease in revenue.
5 Important Factors That Will Affect The Page Speed
Every decision you make regarding your website has an impact on how quickly the pages load. Ensuring that you make the right choices across the board is crucial for providing a positive user experience on your website. Optimizing these factors can significantly improve page speed, providing a faster and smoother user experience on your website.
The performance and capabilities of the web server hosting your website can significantly impact page speed. A slow or overloaded server can lead to delays in delivering web content.
2. File Size and Compression
The size of files, such as HTML, CSS, JavaScript, and images, can affect page speed. Large file sizes take longer to download, leading to slower page loading times. Compressing files and optimizing images can help reduce their size and improve page speed.
3. Content Delivery Network (CDN)
A CDN is a network of servers distributed across different locations worldwide. It helps deliver web content from the server nearest to the user, reducing the physical distance and improving page speed. You can find out more on how do you use CDN for SEO ranking.
4. Website Design and Code Efficiency
The design and coding practices used in website development can impact page speed. Clean and efficient code, optimized CSS and JavaScript files, and minimal use of external scripts can contribute to faster loading times.
5. Internet Connection and User Location
The user's internet connection speed and geographical location can impact page speed. Users with slower connections or located farther from the web server may experience longer loading times.
How SolarSpeed Help With SEO?
SolarSpeed provides a few other services to enhance website speed, resulting in improved technical SEO. With SolarSpeed CDN solution, website performance is enhanced through the caching of static and dynamic content across a vast global network that covers over 285 cities in more than 100 countries. Moreover, SolarSpeed also offers resizing capabilities that can compress images and further accelerate website loading speed.
Want to know more about how website speed boosts SEO rankings with SolarSpeed? Leave a message to us, our professional technical support team will assist you as soon as possible.